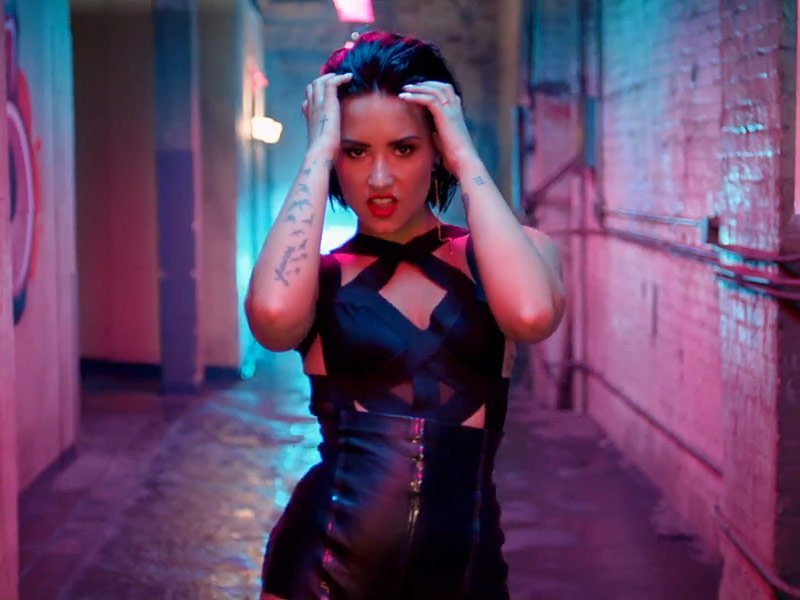 Lovato posted the pre-save link for the "Sped Up Remix" of the song on Twitter on Wednesday (Mar. 30).
Demi Lovato prepares her fans for the ultimate summer of 2022 as she remixes her 2015 hit, "Cool for the Summer."  
The star shared the pre-save link for "Sped Up Remix" on Twitter on Wednesday (Mar. 30). This release follows the summer hit's recent resurgence on TikTok, thanks to a hip-swaying dance challenge and a viral mashup with Ginuwine's "Pony" by user @kuyamagik. 
Cool for the Summer peaked at No. 11 on the Billboard Hot 100 songs chart dated September 19, 2015, and spent a total of 20 weeks on the chart.
Lovato announced earlier this year that they would be saying goodbye to their pop music and welcoming a new, rock era. An image of Lovato posing with both middle fingers up was shared on her Instagram page, along with music executives from Island Records and her manager Scooter Braun. They were all dressed in black. "A funeral for my pop music," Lovato captioned the image.  

Throughout their Instagram Story, the 29-year-old singer elaborated, with one of the label executives saying, "You put out whatever music you want, whenever you want.". "Break the rules." Demi then shared two snippets of a new rock song.
Dancing With the Devil…The Art of Starting Over, Lovato's most recent album, is primarily pop music. The album reached No. 2 on the Billboard 200 chart. Lovato's rock-influenced sound was first introduced to fans on her first two albums, Don't Forget and Here We Go Again, released by Disney's Hollywood Records. 
About Author