Pop Artists To Check Out: The Best Indie Pop Music Picks of the Week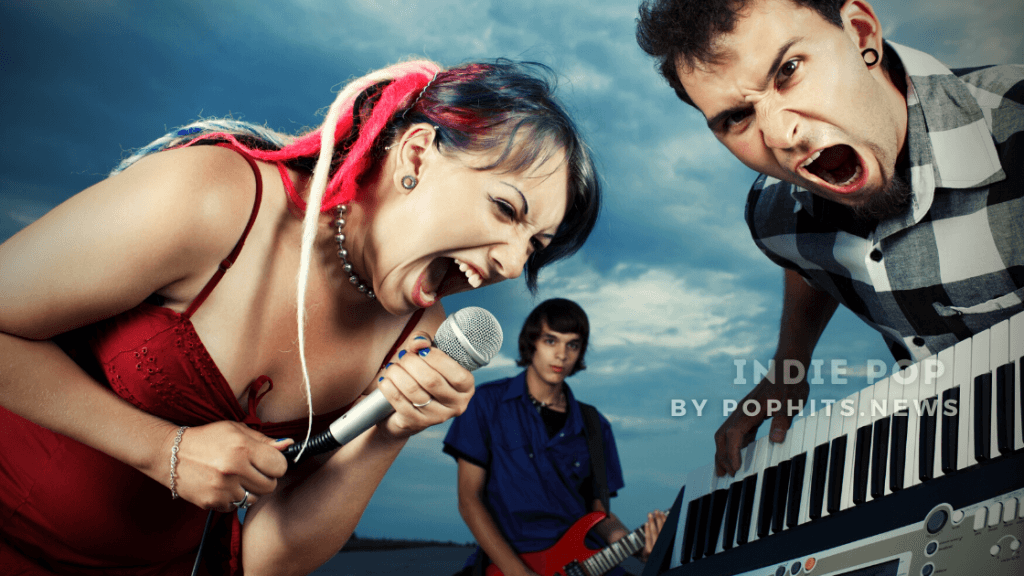 Recently, there's been an increase in the number of independent artists releasing music. This spike in the indie pop landscape has brought us many awesome new songs to listen to as well as numerous great playlists.
There's more than one way to listen to music these days. Buying an entire album gets expensive, and you may only like one or two songs on the release.
Streaming services offer free access but can be unreliable in terms of giving you your favourite artists' latest tracks. That's why we are here!
If you're just looking for some new music or a playlist to add to your collection, this article is perfect for you. We've selected the top songs and playlists released by independent artists this week.
Be aware! Whether you're a music connoisseur or just love to check out new music, there's always an overabundance of indie pop music to listen to. Fortunately, we've searched high and low to bring you this compilation of the best indie pop songs out right now — no bland Pitbull or Gaga on this list, no major label artists.
It's all very creative independent bands and artists, free to experiment and blend different music genres, who is telling you: Feel free to use these great songs in your radio show, or podcast, or include their music in your best playlists.
You can listen to our full playlist which contains the artists' music, and know more about the artists by scrolling down the page.
---
1) NUNO AND THE END – Infinity
NUNO AND THE END's new album, Infinity, is an electro-pop masterpiece. It's 14 tracks of dreamy, cinematic, ethereal music that will make you feel like you're floating on a cloud.
The album features a lot of vocals from Germany-based singer Nuno Filipe. His voice is ethereal and soothing, with just a hint of darkness in it. It's rocky, but also pop, and a bit of everything, you will have to try it by yourself if you are expecting specific definitions.
What we can tell is that his vocals are perfectly paired with the electronic beats that make up most of the album's soundscape. The instrumentals are dreamy and ambient, but they never overpower his voice. In fact, they work together to create this unique sound that is unlike anything else out there right now—a perfect balance between dark and light.
The project is a hybrid, it's very visual but also eclectic in terms of musicality. Exploring from post-rock, such as Into The Void, to electronic beats, with songs in English and spoken word in Portuguese by beautiful female vocals, for example, in the opening track Ode To Infinity.
This album is definitely worth checking out if you're into Avant-garde Electronic Dream Pop like Yelle or Grimes—or even if you just enjoy some good and free-of-limitations pop music! Make sure to visit their website and follow them on Spotify!
---
2) ANATÉ – After
Anaté is a pop duo from Berlin, Germany. Their single "After" is a sensual track that evokes the European influences of their country and combines it with the pop sensibilities of modern music.
The song begins with a slow, drum-heavy beat that builds into an upbeat chorus before slowing down again for the bridge. This pattern repeats itself several times throughout the song, creating an overall mellow vibe that's perfect for any kind of romantic situation—whether you're at home with your significant other or trying to get one!
The group has already gained some traction on Spotify, with almost half a million streams worldwide so far. They have also had success on other platforms like YouTube as the visual is something that grabs the audience's attention straight away.
If you're looking for a new pop artist to listen to on a special or romantic occasion, while you're chilling out at home or working out at the gym then check out Anaté! We are sure they have something for you. Check it out, visit the artist's website and follow on Spotify.
---
3) KC STAR – Boys Suck!
KC STAR is an indie artist from Los Angeles who just released an EP called BOYS SUCK! This is a 6-track album that features the artist's unique style of pop, rock and synth music.
Each song has catchy lyrics that make you want to sing along with them.
The album starts off with "Listen", which is all about a unique interpretation of pop rock in only 54 seconds. The song has a fast tempo and an upbeat rhythm that makes it easy to dance to. It's also blending opera with rhythm 'n' blues.
If you can't imagine the result of it, try it out and start exploring his portfolio right now!
our favourite track on this album is "Your Song" which talks about how the singer feels when releasing that his loved one was cheating on him. The song has a faster tempo compared to "Listen" but still has an upbeat rhythm that makes it easy to dance to and wave your head as a rock star.
In this album, the fourth song is called "Arcade" and it talks about the games that people play in their relationships and how they evaluate them. There's more to explore here, not only rock but rap and pop all together, now check it out, visit the artist's website and follow on Spotify.
---
4) BROOKE STILLA – Not Over Getting Over You
Indie folk artist Brooke Stilla is releasing a new single that's sure to be a hit with fans of contemporary pop, pop soul, and commercial sounds. The single, Not Over Getting Over You, is just the kind of anthemic and easy-listening track that will find its way onto playlists everywhere in the coming months.
Time to check it out! Brooke Stilla is an independent artist who has been making waves in the Canadian pop scene for some time now. Her new single isn't a huge departure from her previous work—it's still piano-based compositions with amazing female vocals—but it does show off some impressive range.
She's got the power of Adele here in terms of emotional connection, and this song was born inspired exactly by Someone Like You by Adele. But she has a unique style, also sounds like she could be singing along to your favourite commercial radio station.
Check out Brooke Stilla's website for more information about where you can find her music online and follow her on Spotify for updates on when this single will be released!
---
5) CIELO PORDOMINGO – Mil Flores
CIELO PORDOMINGO, who is currently based in Argentina has just released her single "Mil Flores" on Spotify.
This track is a beautiful mix of indie pop, from experimental to alternative sounds, art pop and vocal dance EDM with nice electronic beats.
It's a song that will make you want to dance your way down the street with your best friends. The vocals are outstanding—they're melodic and have a very strong presence in the mix while still being able to harmonize perfectly with the instrumentation.
The instrumentation itself is richly layered and features many different instruments that all sound great together, still giving space to her vocals in Spanish language and expressing an interesting Tango-style vibe.
The lyrics are fun to listen to as well—mostly because they're written in Spanish. They're playful and upbeat while still being able to convey some pretty intense emotions. We recommend you check it out, watch her music video, visit the artist's website and follow it on Spotify.

---
6) WITTY ELLIOTT – Move Close To Me
Witty Elliott is a UK-based artist who's been releasing music since 2019. Her single, "Move Close To Me," is a perfect example of her style: it's an indie pop song with electronic beats and vocals from both male and female singers.
She's also part of a trend that's sweeping the UK indie pop scene: the rise of Latin pop.
While it might seem like an odd combination at first, Latin pop has been gaining popularity in recent years thanks to artists like Witty Elliott and Anitta. And it's no surprise why: Latin pop combines the best elements of pop and R&B with upbeat rhythms and soulful melodies that are guaranteed to make you want to dance and experience a sonic Latin vibe.
This is what makes Witty Elliott such an exciting new artist: she combines all these elements together seamlessly into one tight package that will have you singing along with every listen! Check it out, visit the artist's website and follow on Spotify.
---
7) JEWELIA – Second Best
Jewelia is a singer-songwriter from the United Kingdom with a soft band sound. Her single, Second Best, is an easy listening track that will make you want to listen to it over and over again. It's produced, has amazing female vocals, and it's super catchy—a perfect combination for an indie pop song. It must be on the radio all around the world!
The song has a rock-pop feel to it with some folk influences in the melody. The lyrics are also interesting; they talk about relationships and feelings, but it's not melancholic.
Even though Jewelia is from London, she has managed to produce an album that sounds like it was recorded in California during the '80s or '90s—it's very easy listening and soft rock-esque at times (but not too much).
This makes sense because Jewelia has been influenced by artists like Natalie Imbruglia who used keyboards as their main instrument instead of guitar or synthesizers but kept very soft melodies for her love songs.
In general, this single is great for those who love contemporary pop music but don't want something too heavy or dramatic; it's just right! If you want more info on Jewelia then check out her website, visit the artist's website and follow her on Spotify.
---
8) STEFAN DANDO – Loser Anatomy
Loser Anatomy is the latest single from Stefan Dando, an indie pop-rock singer-songwriter from London. The song is a melodic pop-rock track with a classic sound that makes it easy to listen to and enjoy, besides the lyrics about rejection and heartbroken stuff.
The song starts out with a simple guitar intro followed by Stef's vocals. The song has a classic sound that reminds me of Coldplay and Bon Iver, but at the same time, it has its own unique style.
There are some moments in the song where Stefan sings higher notes that suit his voice well and make you want to listen closely because they're really beautiful. It's impossible for us to refuse him, his voice is as sweet as sugar for our ears, and we would never reject him as the lyrics suggest. Hey Stef, we love you, man!
When listening to Loser Anatomy, I can imagine myself sitting by the fireplace or on my couch with a glass of wine in hand while relaxing on a Saturday night after a long week of work.
It's perfect for those nights when all you want is to relax and unwind, but still have something playing in the background, for a reflexive moment or to be completely alone with your thoughts. Now it's with you, heck it out, visit the artist's YouTube and follow him on Spotify.
---
9) MADISON DEAVER – Wicked
MADISON DEAVER is a new artist that you should check out. Her single, "Wicked," is an anthem of pop-punk with dark pop undertones and super catchy female vocals. It's the perfect blend of rock and pops for an indie music lover like us!
Madison Deaver is a singer-songwriter from Los Angeles who is part of the US indie pop scene. Her music has been compared by producers from PopHits.Co to some pop rock songs by artists or bands suck as Paramore and Panic! At The Disco
But she has a sound all her own that will appeal to fans of those bands, fans of pop music, as well as anyone who loves good old-fashioned rock 'n' roll.
This track has it all: it's upbeat, it's emotional, it's got great melodies—and at just over four minutes long, it doesn't overstay its welcome either!
Check out "Wicked" on Spotify, visit her website to learn more about Madison Deaver and follow her too.
---
10) DIGGY KIDS ZONE – Diggy, Diggy Dino Song
This one is a great gift for our kids. If you are a parent or have kids in your family, then you just discovered a diamond. If you're looking for some super catchy, easy-listening indie pop music for your kids, look no further than DIGGY KIDS ZONE.
The band is based in Dubai, United Arab Emirates and was formed to create music that reflected their childhood experiences growing up in the era of the Internet. Their YouTube channel already got more than a million views. It's pure fun for kids in a very "Baby Shark" style.
Their single, Diggy Diggy Dino Song, has an infectious melody and will make the whole family dance. We are sure this track is on its way to becoming one of the most popular kids' songs of the year.
If you haven't heard it yet, check it out! It's fun to sing along with and will teach your kids about the dinosaurs; family at the same time—what more could you want?
And if you like what you hear, make sure to visit their website and follow them on Spotify as well!
---
About Author